A critical review of the Zortrax M200 3D Printer is the only thing that you need to determine whether the printer is appropriate for you. This is considered an underdog printer that is quickly making its way to the big leagues.
You are going to find very useful information of the Zortrax M200 printer in this review. This includes product details, features and feedback from people who have already used it in the past.
The printer is made from sturdy aluminum and can begin printing with little setup. The Zortrax M200 3D Printer started as a Kickstart project in 2013. It became popular when Dell ordered 5000 units in the funding phase. Today, the printer is one of the best 3D printers in the market.
Technical Specifications
Printer Features
Single extruder
SD card and USB cable connectivity
Various available materials; Z-ABS, Z-ULTRAT, Z-HIPS and Z-GLASS
Printing Specifications
LPD or Layer Plastic Deposition. It is a precise-layer material application technology that provides accurate and detailed prints.
Build volume of 7.87 x 7.87 x 7.08 inches
Resolution of 90-400 microns
Spool material container
Optimal wall thickness of 800 microns
400 microns resolution for a single printable print
Material and nozzle diameters of 1.75 and 0.4 mm respectively
Minimum single positioning of 1.5 microns
Positioning of 1.5 microns in the X/Y axis with Z-axis single step of 1.25 microns
Temperature Specifications
A heated platform
1.75 mm filament
Maximum extruder temperature of 380 C
Platform maximum temperature of 110 C
Ambient operation and storage temperature of 20-35 and 0-35 C respectively
Software
Z-Suite software bundle
Supports Mac and Windows Operating Systems
Reads various file types including .stl, .obj and .dxf
Electrical Specifications
Power consumption of 190 watts
AC input of 110/240 volts
24 volts DC at 11 amperes
Physical Dimensions
Shipping box: 18.1 x 18.5 x 22.4 inches
With and without spool: 13.6 x 17 x 16.9 inches
Actual weight of 13 kg
25 kg/ 55 lbs shipping weight
Pros
Precision and high print quality: The perfectly matched materials, software and 3D printer of the Zortrax M200 set guarantee users high quality 3D production. You can print your detailed elements with confidence that all the copies will be identical.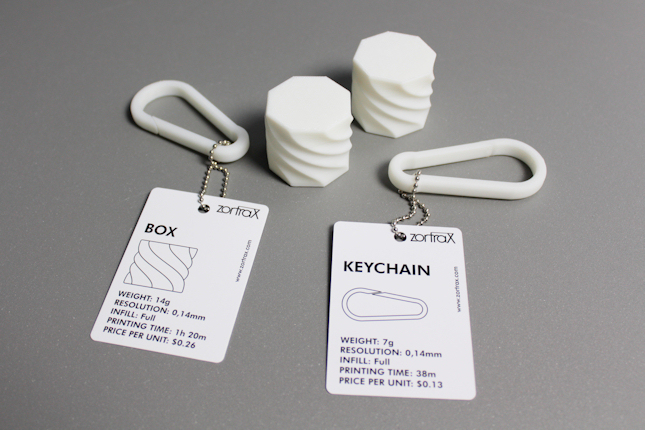 Simplicity: The software and hardware are very easy to use. The display has few entries and each entry has few items. The firmware lacks "cancel" feature which makes it do what it wants. Nonetheless, powering off works very well should you need to stop an ongoing project.
Affordability: The high 3D print quality and affordable price of this printer has made this one of the best 3d printers for both industrial and design companies.
Compatibility: Just like all Zortrax products, the printer works with an integrated system. The system makes unique prints with repeatability and dimensional accuracy. The prints are flawless, precise and always ready. The dimensional accuracy of this printer ensures that elements that are printed separately are fitting together perfectly.
Versatile: The printer is very versatile thanks to its large work space and wide choice of professional materials. You can therefore produce various elements of your project using materials with different properties depending on preferences and needs.
Ease of use: The printer comes as a complete set of an integrated printing system with dedicated software and compatible materials. You don't have to be worried about the compatibility of the printer with the rest of the set. You only need to open the box and begin working.
Wide range of materials: The set supports materials with different properties from standard to exotic feature like glass. The materials are:
Z-Ultrat: It is a versatile material that allows users to create accurate prototypes. It makes models look as if they are made with the injection molding technology. It is suitable for solid projects because it is harder than the rest.
Z-Hips: This material is ideal for creating large prototypes with regular structures. It gives models an exceptional matte finish with a smooth and flawless surface. It is great for models that need unique finishing touches such as sanding, painting and gluing.
A-Zbs: It is an economical material and available in different colors. You can use to make 3D printing conceptual gadgets and models. It is ideal for 3D hobbyists because it comes at a pocket-friendlier price.
Z-Glass: It is translucent. You can use Z-Glass to make prototypes for objects that will feature transparent plastic or glass. It is suitable for use at high temperature and it is resistant to alkanes, acids and salt.
Cons
Material availability: The printer can only work with Zortrax filaments. This means you can only buy the printing materials from Zortrax or their authorized dealers.
No dual extender: Users can only work on a single printing project at a time.
It is optimized for warm printing: The printer has a perforated build platform that prevents the material from bending during the printing process.
A Critical Review of the Zortrax M200 3D Printer
The printer has received amazing reviews from users. It has a rating of
4.6 stars out of 5 stars
. Most users recommend the printer because of its high print quality, reliability, value for money and consistent printing capability. The following are some aspects that have satisfied a good number of users.
Appearance: Users are satisfied with the stylish and attractive look of this printer. The stylish and stark finish is complemented by a black frame with a cold-blue fluorescent display. Users love the design of the printer because it is appealing and fits easily on most working desks.
Stability: Some users were amazed to find that the printer has a compact and sturdy frame. The weight enhances stability and keeps the printer firmly in place.
Ease of use: Users have already found that it is easier and faster to start the printing process with this printer. The assembly is simple and doesn't take a lot of time. One user reviewed the ease of use of the printer as easy as "plug and play" because the quick-start instructions make the entire setup a quick matter.
Shortcomings
Some users have discovered some shortcomings of this printer. Some have complained about the absence of side covers and the short power supply cable. The side covers are essential to ensure even distribution of heat on the heatsink. Users feel that the side covers should be included in the price while the power supply cable should be longer. Other shortcomings include:
Auto calibration: The perforated plate has to be calibrated before printing. You can calibrate it manually or use the automatic calibration system. Auto-calibration ensures proper and precise alignment of the build platform. However, some users have complained of bugs in the auto-calibration system that makes it hard to detect heat action from the printer other than noise. You can calibrate the plate manually or update the software to resolve this issue.
Manual calibration: It is time consuming for most users. It needs great precision and has to be done regularly.
Z-Suite software: The M200 works with this software only. The software can only download and install with a Zortrax serial number which is inconvenient for most users. Moreover, the software provides profiles for Zortrax filament only and always prints raft. The raft sticks to the surface but it can be peeled from the prints using a metal blade.
The platform gets hot: You have to wait for it to cool or use an oven mint. You can unplug the printer and follow the procedural removal of the platform for faster cooling. It works well and it is very hard for it to bend the platform.
Other flaws of the printer include pegs and magnet that must seat properly, vague progress bar and some imperfect instructions.
Overcoming the Shortcomings
Although some users complain that the printer has a relatively higher price, it is good to focus on its ability to deliver high quality prints. The advantages of owning this printer surpass the shortcomings.
While material availability may be an issue, users are advised to buy the materials in advance to prevent delays. Zortrax produce their unique materials because they understand the importance of quality 3D prints. Use the recommended materials only to ensure quality 3D prints, ease of use and prolonged printer life.
Update the auto-calibration system to calibrate the plates with ease.
Is This Printer Meant for You?
The printer is good for you if you usually undertake large 3D printing projects. Some users have said that they have used the printer to complete over 60-hour prints without experiencing any failure.
Also, owners have reported failed prints of less than 7 percent which is highly commendable. In addition, a good number of these failures were caused by things that would have been avoided. For instance, most were caused by errors in the auto-calibration system which occur due to failure to update the software. Only a few of these fails were as a result of the printer developing technical issues. This means this printer is ideal for any individual or firm that wants high quality 3D prints without a major setup.
The Zortrax M200 3D Printer is a quality printer that will definitely turn your 3D idea into reality. It comes with in-built 3D printing software that reads different file formats and works with numerous 3D reads. The printer is exceptionally reliable and will allow you print extensive 3D projects with almost no maintenance. From this critical review of Zortrax M200 3D Printer, it is clear that the printer is meant for use by designers who are willing to pay for looks and excellent 3D prints.